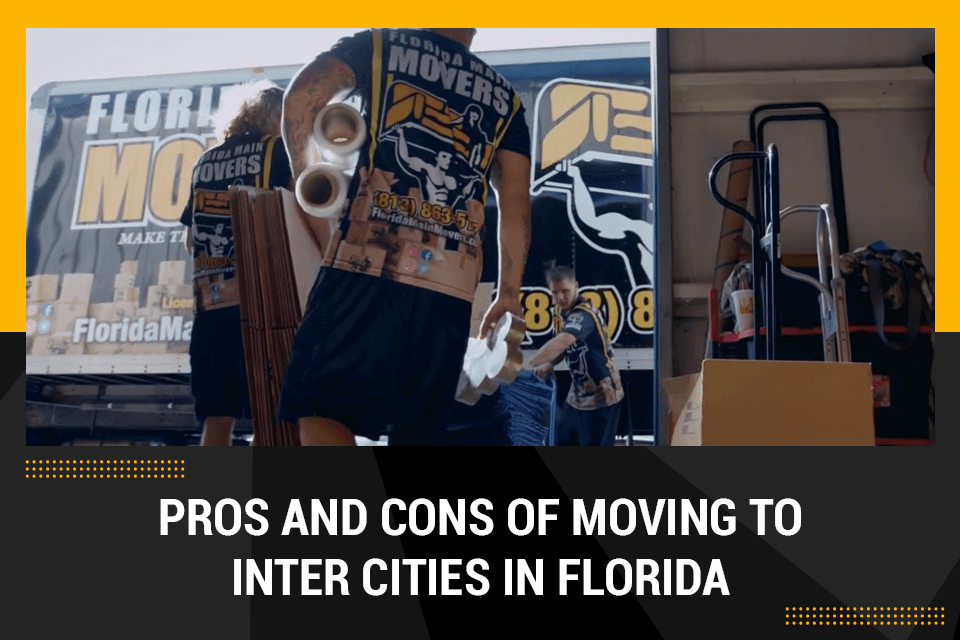 Assessing the pros and cons of moving should be on the top of your to-do list the moment you start thinking about changing your address. Without conducting thorough research, moving to another city will only put your time, money, and effort down the drain.
This article will discuss pros and cons of moving within Florida to give you an idea of what to expect when moving to a new city. The more informed you are about the different cities of Florida, the easier it'll be for you to manage your upcoming move.
Pros
Save money on your costs of living: If you've been struggling to keep your bank account happy at your current residence, don't worry. There are cities in Florida with reasonable and affordable living costs.
One of the cheapest cities in Florida is Fort Meade. Median home prices are roughly $74,800 in the city. It also offers many job opportunities and has a strong economy.
You could also choose to move to Kissimmee or Quincy. The cost to buy a home in these cities can sit around $217,500 or even as low as $91,900. The cost of groceries, transportation, and healthcare in these cities are also generally lower than the national average.
Enjoy more and better job opportunities: According to the Bureau of Labor Statistics, Florida has one of the highest state unemployment rates, 6.4%. This number speaks volumes about the number of jobs and career opportunities available in various cities in Florida.
If you want to build a career as a customer service representative, moving to Tampa, Orlando, or Jacksonville all are great options. If you want to work as a retail sales associate, consider moving to Miami, Lakeland, or Ocala. Registered nurses are also in-demand in Pensacola while Fort Lauderdale is looking for truck drivers.
Live near world-famous attractions: Life in Florida isn't all about work; this state actually has a ton of recreational options. Regardless of what you want to do for fun, the cities in Florida always have something to offer.
Orlando has Walt Disney World, Central Florida has Kennedy Space Center, and the Miami-Dade, Monroe, & Collier counties have Everglades National Park. Key West, Destin, and Dunedin are also popular in Florida for having sandy, white beaches.
Choose from different homes: When assessing the pros and cons of moving long distance, it's important to consider the availability of homes in your new location. You don't want to move and then later find out that the new city doesn't offer homes fit for your family, right?
Fortunately, Florida will not disappoint because its cities offer many housing options. Florida's real estate market is booming, which means you can find a wide variety of homes across the state.
If you want to invest in a beach house, you can move to Titusville, Sebastian, or Port Charlotte. You can find a handful of family homes in Melbourne, Jacksonville, Lakeland, and Fort Myers. Lynn Haven and Tarpon Springs, on the other hand, are known to offer the cheapest one-bedroom rentals.
So regardless of if you're a millionaire or earn a modest income, there are plenty of housing options to choose from when you move within the state! 
Cons
Hurricanes: Since 1851, Florida has been hit by the highest number of hurricanes. Northwest Florida, the most hurricane-prone area in the state, has had 66 hurricanes in total and surpassed the second most hurricane-prone state, Texas (64 hurricanes). Other hurricane-prone areas in the state include Southeast (hit by 16 major hurricanes) and Southwest Florida (hit by 17 major hurricanes).
You can always reduce your susceptibility to hurricanes by moving to less hurricane-prone areas, such as Inland and Northeast Florida.
Negative effects of urbanization: Things that people find exciting in Florida are also part of the reason why the population in the state grows at such a rapid rate. When the population grows, expect worse traffic. This situation is only worsened by limited public transportation options and the consistent issue of bad drivers in the state (ranked 10th in the country for being worse drivers).
Large towns, such as Lake Park and Panama City Beach, also have a higher-than-average crime rate compared to other cities in the state.
Fortunately, there are a number of small towns in the state you can choose to move to such as Masaryktown and Roseland which have 1,006 and 1,514 residents, respectively. This will allow you to avoid some of the most troublesome elements of urbanization that commonly affect the larger cities in the state.
Work With Professionals
Moving to Florida offers many perks – perks that aren't usually available in other cities or states. Moving to a new city around Florida might be the key to enjoying more opportunities and improving your quality of life.
For your next move to be hassle-free, hire reputable Florida local movers, such as Florida Main Movers. We are the best moving company in Tampa with years of experience providing long distance moving services to our clients. We also provide crating and packing services and can move your pianos, pool tables, and other heavy objects safely and securely.
If you're ready to move to Florida, call us at (813) 863-5177 or complete this form to request a quote from our team. We're here to make your move to Florida seamless!