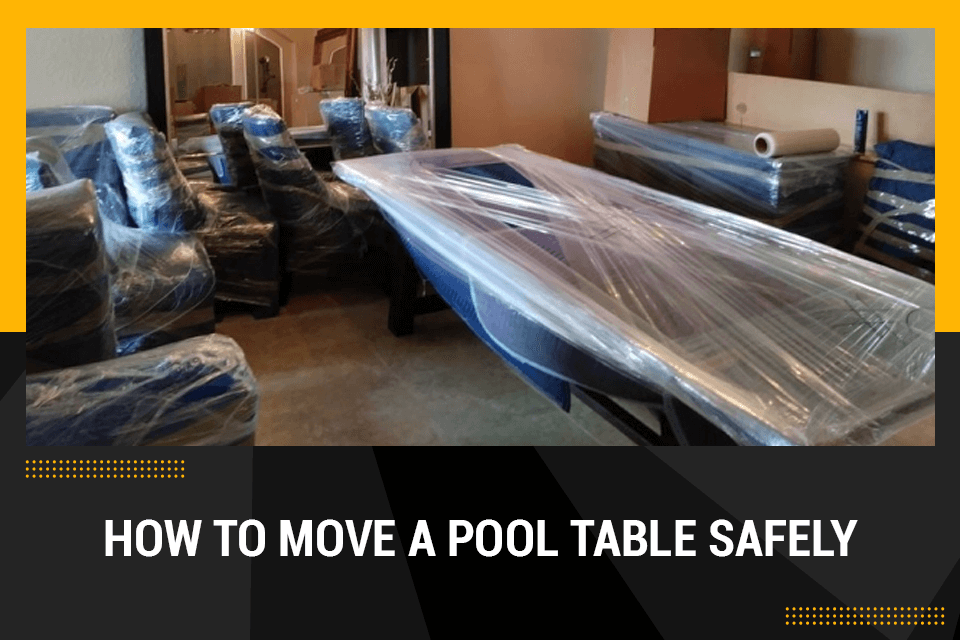 Are you moving to a new home? Don't forget to make plans for your pool table, where you'll surely need plenty of help. In fact, you'll most likely need to hire professionals to do it for you. Moving a pool table shouldn't be taken lightly, and it can be a complicated affair since it's one of the heaviest pieces of furniture that we can own. Fortunately, this blog will provide you with the answer to the question: "How do I move a pool table safely?"
How to Move a Pool Table
While you can theoretically move your pool table on your own, you run a high risk of breaking the table or injuring yourself in the process. Because of this, many movers will have you sign a waiver should you decide to move your table without the use of specialists. In this way, if it gets damaged or broken during the move, you won't be able to blame anyone else.
However, if you do consider moving your pool table on your own, keep in mind that it may end up being a big mistake since injuries and damages can occur. There are videos on the web that show how to pull the table apart to be moved piece by piece which can be helpful. Though, if you've never done this process before, you might just be disappointed in the results you get once you put it back together.
Moreover, disassembling and reassembling your pool table when you're inexperienced might just end up damaging it more than fixing it. It's also ridiculous to even attempt trying to move a pool table on your own — most slate tables will need five to seven people. Even so, there's a good chance that a few of you will get injured seriously. As such, it's not recommended to attempt to move a table without expert help.
Cost To Move a Pool Table
We won't lie — moving a pool table is expensive. The cost to move a typical pool table can range anywhere from around $750 to $1000 in many cases. The process will usually involve a specialist for the reassembly of the table. Their purpose is to level the billiard cloth to have a custom fit on the pool table, as well as take it apart and place it back together.
Depending on the size of your table, you may be able to save money if it's only around seven feet long. However, it may cost more if you own a nine-foot table and have stairs to go up and down. Other companies may opt to charge for each end of the table, and depending on the moving distance and kind of pool table, it may cost you about $450 for each end.
Best Way To Move a Pool Table
A pool table can weigh as much as 1,000 pounds and will require hours of tedious disassembly when it needs to be moved. Their weight and bulkiness make them particularly hard to move, and because of this, it's essential to get as much help as possible when handling them. Furthermore, hiring professional movers for the disassembly, moving, and reassembly processes is the best thing you can do.
If this isn't possible due to your timeline or budget, then it's possible to move a pool table with the help of several friends. Some parts of the table, like the slate, can be particularly susceptible to damage. They're also hard to move over long distances without the help of a professional.
As mentioned above, the best and easiest way to move a pool table is to have experts do it. While it is an expensive way to tackle the move, it's worth it. A team of specialists can start the process by taking it apart and placing it in a crate. Next, the movers will take it from your old home to your new home. Then the team of specialists will come back to rebuild it in your new place.
People may say that moving their pool table on their own is more cost-effective, but experts who have the know-how and experience in moving these kinds of furniture will get the job done quickly and correctly.  Ultimately, if you don't have enough people to help and you need your table to stay in one piece during the move, it's best to hire a team of professional movers. If you plan to ship your table across the country, be sure to hire a moving company.
Move a Pool Table Near Tampa
For a reliable pool table moving company, Florida Main Movers is the #1 Moving Company. With us, you'll get a team of Tampa movers who will provide you with the best professional moving services. To schedule a free moving estimate along with a complimentary moving and packing quote, call us today at (813) 863-5177.
Our fully licensed and insured team can show you just how a moving service should be and why we're the best movers locally. If you live in and around the Pinellas, Pasco, and Hillsborough counties, prepare to experience the finest full moving service from Florida Main Movers!