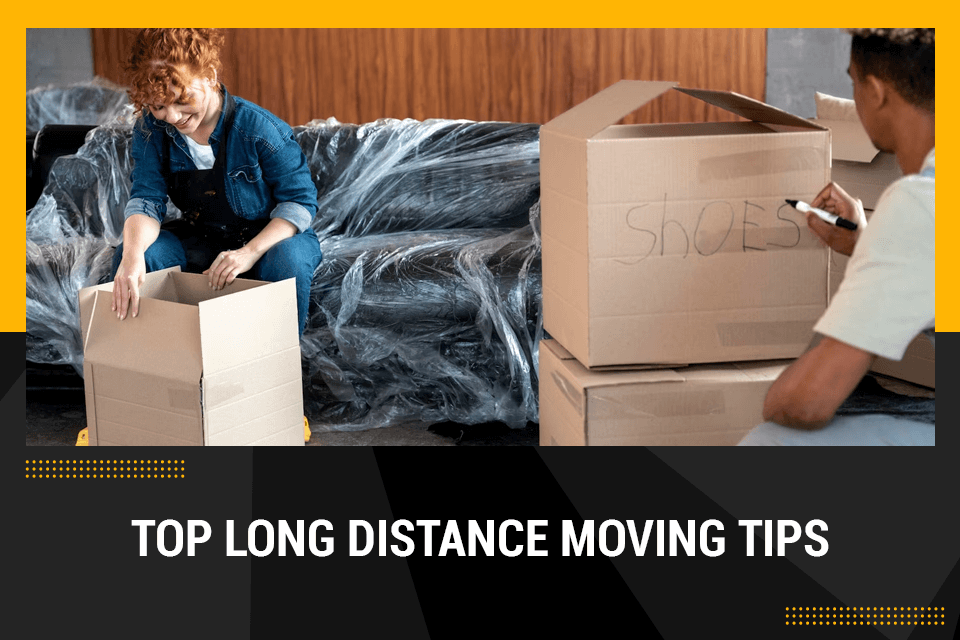 Cross-state or cross-country relocations can take their toll on you long before the actual moving date. There are a lot of things to think about — your new home, packing up everything you own, and ensuring all your things survive the move.
Following as many long distance moving tips as you can help minimize such risks. However, working with professional long distance movers can take a huge weight off your shoulders. They can help you ensure all your belongings are securely packed and would reach your destination safely.
The stress of moving long distances usually centers around the pre-packing and the packing stages. Here are our top long distance moving tips and tricks for both phases.
Pre-Packing Tips and Tricks
1. Plan Ahead of Time
Ideally, you should begin planning and preparing as soon as you're certain about making the move. Start by creating a moving checklist.
This should include the following:
Shopping for a reliable and affordable long distance moving company
Creating a budget for moving expenses
Processing any needed documents for the move
Collecting sturdy boxes for packing
Making a moving schedule
Creating an inventory of all items you're taking with you
2. Downsize and Declutter Unnecessary Items
Anyone who has lived anywhere for an extended period would naturally accumulate a large number of belongings. However, many of these items are often unused or unwanted.
Before you pack everything you're taking with you to your new home is the best time to downsize and declutter your belongings. Here are some of the things you should consider donating, throwing, or selling:
Old, ill-fitting clothes
Bulky and old furniture
Books you don't plan on reading
Forgotten or outdated tech, such as old CDs, DVDs, and music players
Rarely used kitchen appliances
Make sure to throw or give away any opened food items, frozen foods, and perishables before the move. The same applies to any opened aerosol cans and cleaning liquids. Opened food items can attract stowaway vermin while opened unsealed liquid containers may accidentally open, causing the liquids to seep into your other things during the trip.
Removing unnecessary items is one of the best cheap long-distance moving tips experts can give. Remember that the less stuff you need to pack and transport, the less it will cost you.
3. Inspect Furniture for Pest Infestations
Many people don't think about inspecting their furniture — and even if they do, they only inspect their outdoor furniture.
Outdoor furniture is a prime candidate for insect and larvae infestations. Spiders, termites, beetles, fleas, ants, and termites often make their homes in wood and wicker outdoor furniture.
Indoor furniture pieces aren't safe from pests, either. Beds and upholstered items, such as couches, may be infested with bed bugs, lice, and more.
4. Invest in a Moving Insurance Policy
Purchasing moving insurance is a great idea, even if you are not moving anything particularly expensive. Such insurance policies offer a measure of protection against accidents and unexpected losses.
Many reliable moving companies' packages come with insurance policies, though they may be limited. Make sure to inquire about it when looking for a company that best suits your needs. If their insurance policy is limited and you have many expensive or valuable items, then it's best to buy a comprehensive moving policy.
Packing for a Long-Distance Move
1. Take Essential Items and Documents With You
Do not pack your essentials with the items the moving company will be transporting. Whether you're flying or driving to your destination, make sure to have your essentials on your person or near you. These may include:
Important personal documents, like passports, licenses, and tax returns
Daily toiletries and other hygiene products
A small number of clothes
Oft-used gadgets, like laptops and tablets
2. Box Your Mattress Up
Mattresses can get dirtied and easily bent out of shape if transported without a box. If you no longer have the box your mattress came in with or can't find one that fits, you can ask your long-distance moving company for help.
3. Deconstruct Large Pieces of Furniture
Large furniture items, such as bookcases and bedframes, may survive short-distance moves without a scratch even without getting taken down. However, the same cannot be guaranteed in long distance journeys.
Additionally, deconstructing large pieces of furniture means your belongings would take up less space in the moving container. This may allow you to rent a smaller sized truck and keep your costs down.
Take pictures of any furniture you take apart. Make sure you also pack and label the nuts, bolts, and screws needed to rebuild them.
4. Use Clear Plastic Tubs or Bins for Packing
Clear plastic tubs or bins are sturdier than any cardboard box you can buy. As such, they offer greater protection for any fragile items. They are also easier to stack and reuse.
Moreover, the see-through sides allow you to identify which items were packed inside them. This can be a great help when organizing things in your new home. The only downside is its higher price point compared to cardboard boxes.
If you choose to go the traditional route and use cardboard boxes, make sure to use the strongest ones you can find. More importantly, make sure to label every box correctly.
Work With a Trustworthy Moving Company
One of the best ways you can make a long-distance move less stressful is by hiring a dependable and affordable long distance moving company. They can help guide you through the process and offer more tips and tricks to make the process much smoother.
Contact Florida Main Movers today to get a free moving estimate.