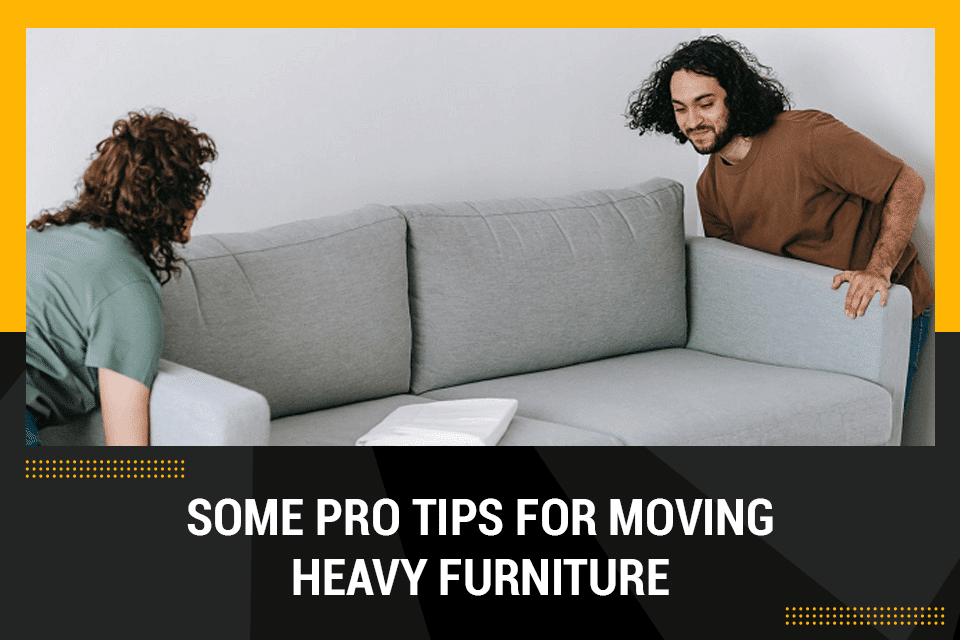 Whether you are moving house permanently, shifting to a condominium for a temporary period, or just rearranging heavy and bulky pieces of furniture, it is a tough ask. Moving heavy furniture has been the bane of countless homeowners around the world because it is a difficult process that requires time and patience.
A simple Google search will yield hundreds upon thousands of DIY techniques that 'promise a smooth transition' and a ton of hacks for moving heavy furniture.
The only problem is that most of them are hardly helpful and will leave you in disarray, especially if you have to move out quickly.
This is where you require the services of a professional moving company that specializes in large and heavy item moving using the latest technologies available, plus their own expertise.
Professional movers know how to treat each piece of large furniture according to its nature and dimensions. A cottage piano and a wooden bed might have the same weight, but they require very different handling techniques.
Before the process of moving bulky furniture begins in right earnest, here are some tips you should keep in mind. These often come in extremely handy.
A few scientific tips for moving house
Many of us have already been there, packing up our lives into boxes of varying sizes and weights to relocate to various parts of the United States for numerous reasons.
It can be pretty distressing.
Before the professionals arrive, here are a few steps you can take on your own.
● Make a list of things you do not plan to take with you: This is even more essential if you live in an apartment complex where moving heavy furniture upstairs is made difficult due to a narrow staircase. While there are ways and means that professional movers can handle these corners, it makes sense not to pack your old and rickety rocking chair when you can buy a new one at your new condo.
● Plan your route with care: Ask any professional mover about their pet peeves, and the chances are that they find it momentously difficult moving heavy furniture downstairs. Even with gravity helping the pros, maneuvering bulky dressers, desks, and other heavy items can be cumbersome.
While the movers will have a detailed recce beforehand, it is also incumbent upon you to do some homework. After all, it's your stuff that's being moved, and you want to play an active role, don't you?
You can help chart the most straightforward route via road (or rail, depending on long-haul journeys) and share it with the hardhats. They will surely love your hands-on involvement.
Earning their trust and faith is one of the most underrated hacks for moving large furniture.
● Measure all entrances and exits: This should be simple enough. Take a measuring tape and use it to gauge the width and length of the staircase and the angles through which the heavy pieces will pass. You can exchange notes with the professionals vis-à-vis these measurements. Together, it becomes a bit easier for the heavy-lifters while moving bulky furniture up the stairs. There are other aspects to be considered here as well. If your destination has fairly large windows that can be opened from the outside, some of the smaller pieces can be hauled up and taken inside through them, ignoring the stairs or a service elevator should the complex have one.
The 'many hands make light work' viewpoint works brilliantly when shifting bulky furniture!
● Keep a few basic moving supplies: It does feel good to be able to move your sofa-cum-bed from the bedroom to the dining room by yourself, right? For smaller endeavors, you can buy and keep some industrial tape, lifting & tie-down straps, lightweight sliders, domestic-use ramps, and dollies.
These will almost certainly not be used when relocating bulky furniture using professional service providers. But once you have (somewhat) settled in at your new address, you can choose to modify the basic template you had in mind and potter around.
You'll find these elementary tools to be of great help, especially if you spend some time reading the instructions and work carefully to avoid injuries.
Hiring a professional mover of repute is critical!
As mentioned previously, you will find taking heavy furniture down the stairs a titanic challenge unless you hire a reputable and trustworthy mover. Besides the smooth and seamless transfer of heavy furniture to your new nest, most such agencies also provide insurance on the goods being relocated.
They are staffed by trained experts licensed to use heavy (and often dangerous) equipment. Finally, since the real estate in most major cities of the United States are in a state of constant churn, several large item movers are doing brisk business.
This is great news for you as you are sure to find attractive discounts on these services. Research a bit on the most prominent players to find the one that suits your purposes and fits your budget.
Once everything is done and dusted, a housewarming party should be in order!