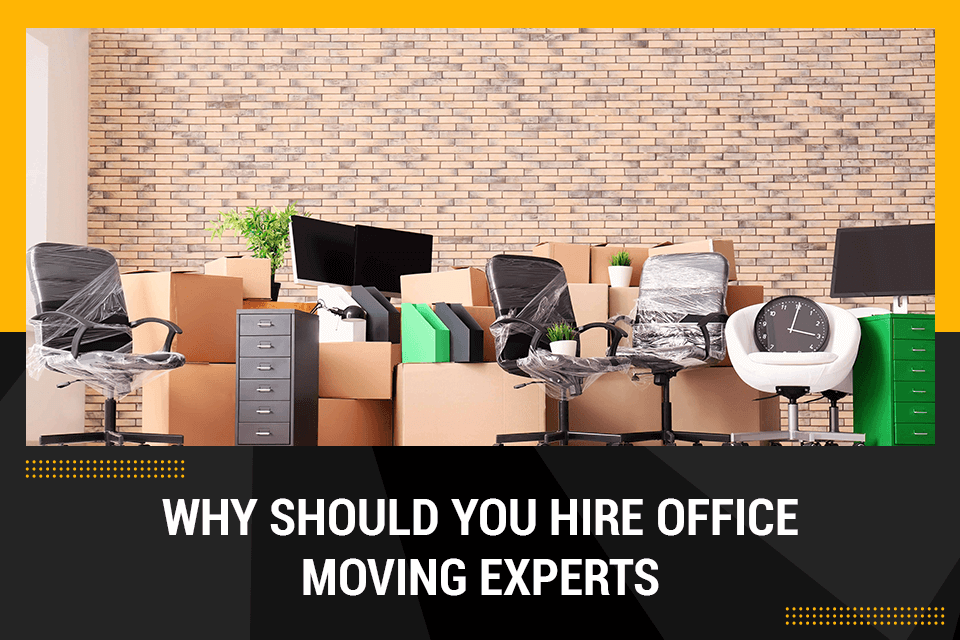 When was the last time you had to shift your office? Chances are if you've never done it earlier, then you cannot possibly gauge the challenges that come along with office moving. Imagine the equipment any office has, and you will know how much time, energy, and effort the work demands from you.
No matter what your office might contain, basics like tables, chairs, computer PCs, tablets, TV sets, and similar items remain the same! Naturally, all these have several cables attached to them and other articles- all of which are needed for operating the office smoothly.
Now add to these the furniture, files, folders, electronic goods, and other add-ons that must be handled with special care. Besides, these items need careful relocation, or else you or the office might have to end up bearing substantial losses in terms of repairs or replacements if damage occurs.
Why Resort to Packers and Movers?
If you happen to be a business owner, certainly you don't want to leave things to chance. After all, office relocation is quite tedious a task, and causes immense stress, lack of productivity, extreme downtime, and the outcome – employees consider this a good opportunity to play lackadaisical!
For the best results of any action in your office setup, you need adequate planning and preparation. Contact a well-known commercial moving company in Tampa for the best results. Also, investing in hiring a packing and moving company for office moving makes more sense.
Top-Notch Efficiency
By choosing a proper, experienced, and expert team of professionals, the office shifting operation turns out hassle-free. These experts not only perform the work in a jiffy and finish their tasks ahead of time, but maintain very good coordination with each other too.
Movers and packers usually meticulously organize items, far better than the novices. And the good part with any effective packers and movers company is you need not shoulder anything! Using the services of a reputed service implies the members take up all the tasks involved, and they won't stop till they finish the work.
Economical Initiative
The myth must be busted here. Hiring a professional moving company costs no fortune! This preconceived notion existing for ages must change thought. Rather, the work of moving an office is economical, especially if you compare it yourself.
While you need to expend a substantial amount on the job, the time that you will save in the process is something you can utilize later to make more cash for your organization! After you have got a fair idea of what you need, and your budget is sorted, then go and hire a company that will offer you the best quote.
High-Quality Moving Equipment
The best thing about resorting to the help of office moves professionals is that they use equipment that makes them stand apart. In other words, they are far more secure, efficient, and effective with each and everything lying scattered in your office setup.
Since they do the work from the start to the finish, you need not rent any other add-on items, or packing supplies. The moving company will hence offer in totality, including transportation.
No Business Disruption
Just because you're moving your office doesn't imply that your employees will be out of work or they feel extra pressurized now to help you with the overall process. Since your workers are already left with a lot on their plates, it's recommended to leave them alone.
Getting help from professional movers is all about delegating the exact tasks to everyone. This way, everyone stays stress-free and there's ample reduction in business disruptions too, which usually occur in the process.
Proper Licensing and Insurance
A big reason why you must hire movers is that they own a professional license for moving any commercial space. The authorities have guaranteed these companies all such legal permits and rights that go into the moving of the office setups.
Only after sufficient checks, these companies are granted their respective licenses. Besides, you're guaranteed insurance too, if things don't go as planned, at the time of office moving. But always question the company about the licensing, certification, and insurance, while you hire their services.
Bottom-Line
No matter how small or large your office is, it's evident you want to get the work done right. Office moves can be highly exhausting, but once you chance upon the right set of people, the work gets done in a jiffy! You can try contacting movers in Tampa who are well-equipped with the job and see how fast the work gets accomplished.