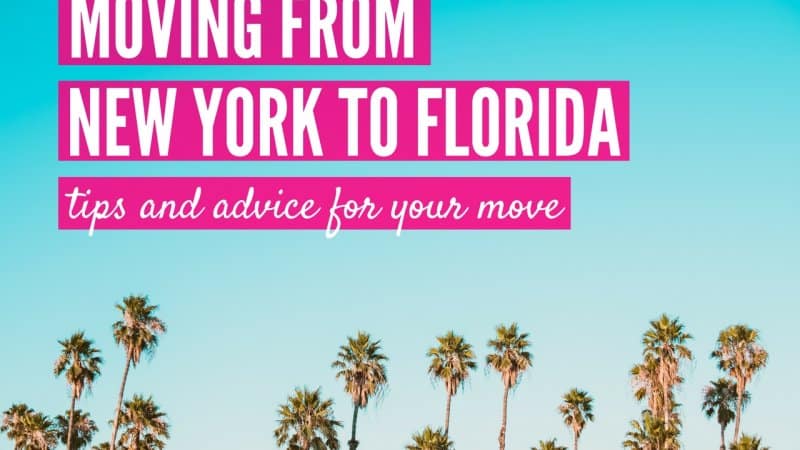 The sunshine state of Florida receives a significant influx of people looking to move. In fact, an average of about 1,000 people relocate to Florida every day. You'd be surprised to know that the number of people moving to Florida from New York contributes heavily to the daily 1,000 movers. These significant numbers are due to the major popularity of Florida among retirees, as it offers pleasantly warm weather, no income taxes, and a thriving economy.
However, moving over such long distances can be hectic and next to impossible without the help of long distance movers. In 2015, Florida was home to a bustling population of 20,271,272, surpassing New York for the #3 spot, based on the state's population. Besides relocating, Florida is highly popular among vacationers from New York, and over 50,000 New Yorkers flock to the sunshine state for 663 miles of sandy beaches and tropical weather.
What You Should Know When Moving to Florida from New York
Florida has Completely Different Weather.
Although Florida is known as the sunshine state as it experiences primarily sunny weather, it is also prone to severe thunderstorms, tropical storms, and hurricanes blowing in from the Atlantic. This causes Florida to experience extreme temperature fluctuations and high humidity.
Florida has a Zero Tax Policy.
The residents of Florida can enjoy not paying taxes as it is one of the seven states that does not implement a state income tax. Although the cost of rent and utility in Florida is slightly higher than in the rest of the country, the cost of living is significantly lower.
Florida is not as Connected as New York
If you are habituated to transit around New York on the subway, you might be in for a shock. Barring some cities with decent transit options, getting anywhere requires getting into a car and driving. On the upside, traffic is much more manageable than in the Big Apple.
Homes in Florida are Cheaper than New York
The average cost of buying a home in Florida is about $200,000, which is slightly higher than the national average. However, this price is a lot more affordable than the housing costs in New York, which averages at over $600,000.
Florida Houses Plenty of Outdoor Adventures
If you are an adventure seeker, Florida is the state for you. Apart from having easy access to over 1200 miles of sandy beaches, Florida also has 160 state parks and three national parks. You can thoroughly enjoy outdoor activities in Florida.
Florida has a Strong Economy.
Florida has a booming economy which reflects well in terms of employment. The average employment rates in Florida are considerably lower than the national average.
Tips for Moving to Florida from New York
Once you have decided on moving from New York to Florida, here is some expert advice to make your moving easier.
Do not rush through the planning phase.
When you plan for a long-distance move, it is vital to pay extra attention to the planning process. As a rule of thumb, your planning process should begin at least eight weeks before the moving day. Since moving across long distances needs to be completed in one trip, unlike moving locally, you must execute the move as smoothly as possible.
Only pack what you need.
When packing for a move, only pack what you cannot do without. You can either throw out or donate the stuff you do not need. Keeping your load limited is essential when moving over long distances. You can always buy new kitchen appliances once you've settled into your new home.
Invest in sturdy moving boxes.
All your personal possessions need to be transported in boxes. This makes it imperative that your boxes can protect your prized possession during their long transit down to the East Coast.
Take inventory and label the boxes.
Being organized with your belongings can be immensely beneficial when moving over large distances. You can take pictures of all your belongings before you pack them and label the boxes properly in order to make the unboxing experience seamless.
The Bottom Line
Moving over long distances can seem daunting, but it pays to be organized and minimal during your packing phase. It is also wise to invest in high-quality boxes as they are the only layer of protection your valuable belongings will have. The best way to ensure a smooth moving experience is to hire movers when moving to Florida from New York.