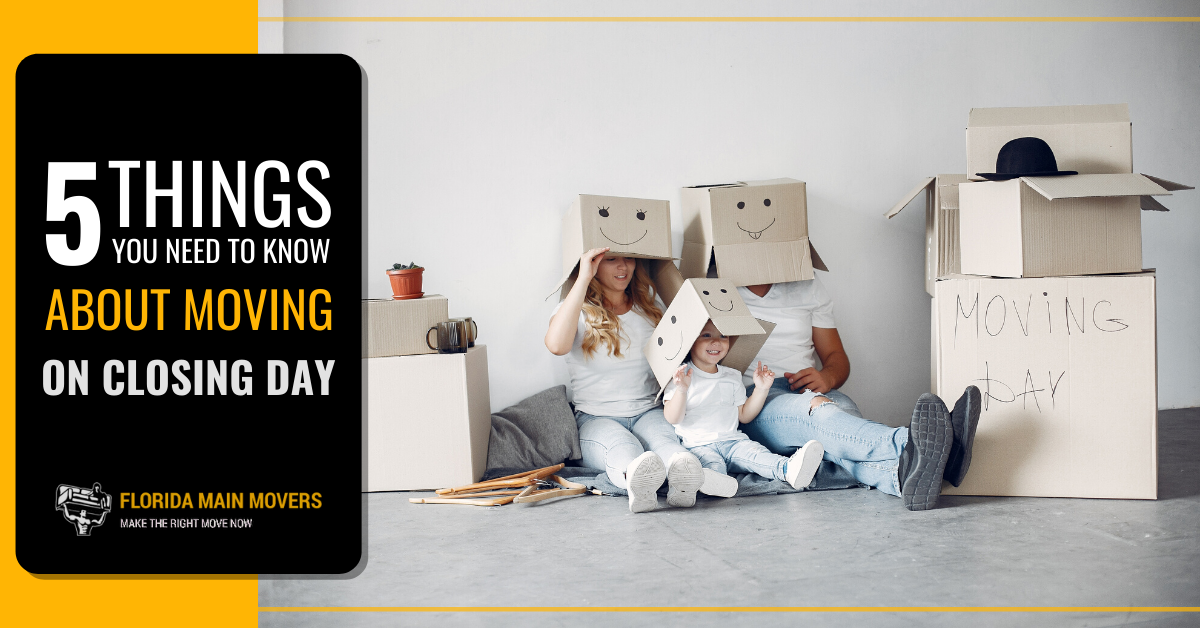 If you're about to close on your home, congratulations! It can be a long process leading up to the exciting moment when you sign the closing documents and get your new home keys. Buying your dream home requires a lot of time and effort but choosing the right realtor and moving team can take your stress away.
How to Choose a Moving Company?
Once you get prequalified and pre-approved for your mortgage, the next step is finding the right realtor. It's extremely important to a realtor that can help with what you're looking for. Their knowledge of home-buying and negotiating skills are very important when purchasing your home. Pick a realtor who will work with you, listen to your needs and following through in a timely manner. Also make sure when you are closing on your home, your realtor is able to guide you the right way, in a professional and an ethical manner.
The Importance of the Right Realtors when you are Moving on Closing Day
One of the most common questions you may ask is, "Can I move in on closing day?". Now, there are a few things you need to keep in mind before you can understand the answer to this and also, to understand why it is so important to have the right realtors on board when you are moving on closing day.
1. The rules of moving on closing day
When you make an offer on a house, you are ideally required to decide two main dates. The first one is the day of closing while the second one is the day of occupancy. The fact that your realtor helps you decide two separate dates here is sufficient to understand why you need to keep them separate. The terms of the deal will help determine when can you move in –before, on or after closing day. In case you consider moving on closing day, only a well-informed realtor will be able to help you in the right manner.
2. Seeking the right agreement
In case your moving date is not pre-decided or it is changing, you will have to be in agreement with all the parties that are involved here. This helps prevent misunderstanding and inconvenience to anyone at any point of time throughout the deal. Seeking professional help and choosing a professional moving service can prove to be a very smart idea in that case. They are good with negotiations and getting things smoothed out among all the parties who are involved in the said deal.
Also remember that after you find your home, it's time to choose the right moving company . Florida Main Movers is a reputable moving company that provides free on-site estimates, also helping you how to prepare for closing on your first home. We provide a thorough on-site estimate with an inventory list to give you the most accurate quote with the upmost care for your moving needs.
Prior planning and preparation is what makes a move go smoothly even if you are closing and moving on the same day. However, sometimes things happen and could cause a nightmare on moving day. The latter may include unexpected weather changes and problems beyond our control. In such a case, closing will not go through or we will need to change the date. Choosing the right closing day movers in Tampa, FL can play a key part in making your process easy and smooth no matter what hurdle you go through. We are experienced and trained to handle any scenario that you may go through during the move. Here is a check list of things you should think of when it comes to scheduling your move.
Prior Planning
Booking your move in advance can save you time and headaches. As highlighted earlier, this is more important if you are moving on closing day. Prior planning can make things way easier than you would imagine.
Communication
We love to check in with our customers prior to moving day. If things change, don't hesitate to call us and request other services. We are also adept at packing, unpacking, junk removal or even helping you declutter before packing. Whatever you require, our team can help you with that. It is important that you know how to choose a moving company so that the whole process can get more streamlined for you.
Commitment
We provide on site estimate to give you an accurate quote based on your inventory and moving needs. If you need help packing and unpacking , our team will assist with the same. But if you decide not to hire us to pack and you don't finish packing, we need to know so we can be prepared when moving day comes. In case you are closing on your home a bit later, you need to inform us about that as well so that we can save time and trouble and carry out our services the right way.
Flexibility
We are dedicated to providing moving services at the flip of a dime. If you have any changes with closing on your home, you can let us know and we can help you out. We are flexible and can run multiple crews and we also have storage services available if you come into a situation and cannot unload while moving on closing day.
If you are still wondering whether or not you can decide to be moving on closing day, give us a call. Our professionals will be happy to help you out and to answer any questions you may have.