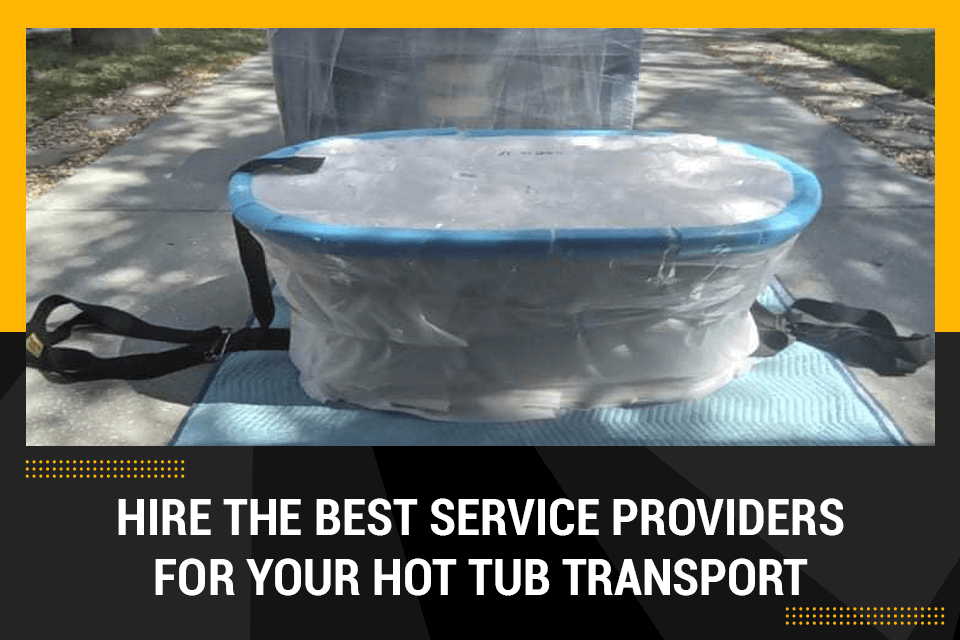 Hot Tubs are one of the most cumbersome and commonly requested objects we're called to transport. After all, your hot tub is a valuable piece of property. Most hot tub owners know how hard it can be to move them. We can handle both fully assembled hot tubs and ones that have been broken down.
We at Florida Main Movers do not think that anyone should transport hot tubs without the right help. We know how important a hassle-free hot tub relocation can be, and we are confident in our ability to deliver on this.
Here are a few reasons why you should hire a professional service for your hot tub relocation:
It's a Dangerous Process
If hot tubs are moved incorrectly, they can be damaged in several ways. Hot tubs have many pieces and parts that need to fit together smoothly for it to work when it is assembled again. We always make sure your hot tub arrives at its new destination undamaged. You'll never have to worry about this aspect of hot tub transport.
Even the smallest hot tub models can be quite large, especially those installed into the ground. Aside from their massive dimensions, one of the most significant drawbacks is their weight. You can see why it can be such a challenge to transport an item of this size.
There is a slew of problems that can arise from attempting this monumental transportation process yourself. Professionals have the experience needed to ensure seamless transport with no damage to you or your property. To utilize these services, just search "hot tub moving service near me" to find the resources and assistance you need to protect your investment.
Why Endanger Your Valuable Hot Tub?
If you try to take this delivery into your own hands there is a good chance that the hot tub will get damaged, whether it is dirty water spilling out of the hot tub during transit or pieces getting broken off by accident while being moved from one place to another. Your hot tub is an investment, so why risk it?
You're probably aware that hot tubs are a substantial up-front investment and require costly ongoing maintenance throughout their lifespan. When moving your hot tub, you must first consider whether you're prepared to risk your investment by DIYing a moving strategy.
Avoid Damaging Your Property
Many hot tubs are huge and heavy, making them a big responsibility for anyone who wants to take hot tub delivery into your own hands. We recommend only moving hot tubs that weigh less than 500 pounds. If they weigh more than 500 pounds, they need to be transported by a commercial hot tub moving service like Florida Main Movers. We'll ensure that no damage comes to you or your property during the transportation process.
Moving Companies Offer the Best Protection
We provide the best protection so you know it will arrive safely at its destination. We want everyone who comes to us with hot tub transportation requests to know that we always handle them with care. We take all necessary precautions to ensure your hot tub is safe during the process.
Peace of Mind
Hiring professional movers is worth every penny. We take pride in ensuring a safe hot tub delivery. We always put safety first, so you never have to worry about the condition of your hot tub after delivery is complete.
Save on Potential Costs
The cost of moving your hot tub by yourself may be either negligible (the price of a dolly and a few planks of wood) or significant, as you can damage the hot tub and discover that you'll need to replace or mend components (if not the whole thing). Hiring experts to assist you in moving your hot tub may be an intelligent middle-of-the-road choice that gives you more security and peace of mind.
You put a lot of money into your hot tub, so it's worth it to create a transportation plan. There are specific logistical issues to consider and you can work them out with your moving company to be certain you'll be able to use your hot tub as soon as possible in your new home.
Contact Us
If you want all-around protection for your hot tub transport, then contact us at Florida Main Movers. We are experienced hot tub movers, and we know what it takes to move them without causing damage or creating other problems. Trust our experts if you want your hot tub delivered safely.